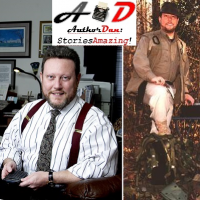 Dan Gallagher
Supernatural Suspense, Action & Adventure, Christian Fiction, Humor, Science Fiction, Teen & Young Adult, Advice & How To, Business
Profession

Author, freelancer
Overview:

Dan retired from financial services (January 2018) to focus on endeavors as a writer, freelancer, speaker and trainer. During his practice, "Dan Gallagher, MBA, CLU, ChFC, CFP®, CBI®," Dan's professional designations included: Chartered Financial Consultant & Chartered Life Underwriter (1989), Certified Financial Planner® (1992) and Certified Business Intermediary (2002). Dan's thirty-year financial practice encompassed group and individual benefits, money management, financial plans, business valuation & brokerage, commercial realty and – often very personal – counseling. He now writes fiction and nonfiction and also offers speaking/training services. Dan was recently (June 2018) accepted and registered as an "expert witness" with The Expert Institute, New York.

Chronology:

Dan graduated from Virginia Military Institute (1981), third among Economics majors, simultaneously completing the Modern Languages curriculum. He served in the Infantry, then as a reservist in a Special Forces support role, next as a Training Company Commander and later in a classified Army Research Institute role. Dan completed his Master of Business Administration at William & Mary (1986). He and wife Laura married in 1988, loved raising their four children, and assisted both Boy and Girl Scouting at their church through 2010.

Dan has given numerous seminars at major employers and other entities including Delta Environmental Consultants (now Antea Group), Anheuser-Busch, Norfolk Naval Shipyard, Canon USA and small businesses. Charlotte Magazine selected Dan as a '2009 Five-star Wealth Manager.' Dan was a panelist and guest speaker at the Charlotte Chamber of Commerce's 2007 'Business Disposition Workshop.'

Dan is the author of a novel, a licensing manual, and numerous articles in journals such as Virginia Lawyers Weekly, Financial Planning, The Daily Press and The Virginia Gazette. Articles by and about Dan have also been published in the Charlotte Business Journal and Charlotte Ventures. His fiction and narrative nonfiction have been published by Skyhorse Publishing, Superversive Press, Millhaven Press, Creative Loafing, NFAA Archery (a humor short story), and AncientProphecies Press.
Video
AuthorDan invites you to new adventures!
To read without reflecting is like eating without digesting.
Edmund Burke